This weekend, we were invaded by turkeys. Of course, this was of my own doing. While I was at Artco Crafts gathering items for Potato's Boo costume, I found some turkey foam projects for a dollar a piece. Really, how could I pass up something so incredibly simple, cheap, and fun for the kiddos to do? I did however pass up the foam glue it recommended. Whoops.
Since Bug, Pix, and Bear will be at their father's for Thanksgiving, we decided to do the craft yesterday. I handed them some Elmers, cut open their little packages, and told them to have fun. Oye. It would seem Elmers is not optimal for foam turkeys. Pixy seemed to think more glue would fix the problem. Oh my. After I made them baby wipe the mess away, I tried Liquid Stitch. Yeah... No. Baby wipes to rescue again. I swear I shall always have these on hand, even long after my youngest is out of the pampers.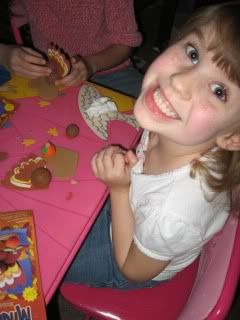 Eventually, I gave into to doing what I knew I should have from the beginning. I dug out the glue gun and plugged it in. They point, I dab, they apply. Bear did the tail feathers, then passed the project to me for completion. Pix, after touching some still hot glue while attaching a wing, decided she point and leave me to dabbing and applying. Bug actually finished hers herself.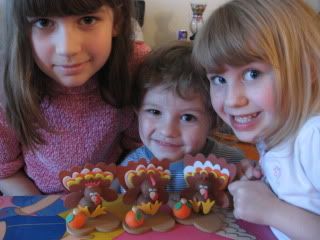 Mixed up in the turkey insanity, I pulled out some ribbon, some felt, and googly eyes. My girls are going to be festive dang nabbit. Because mommy is crazy, and on a craft kick.
And so I present... Turkey Hair Accesories!!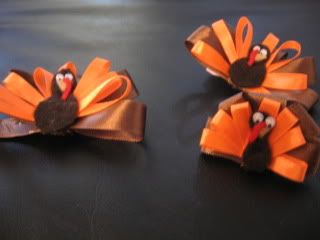 Bug and Pix get the hair clip variety, as Bug models.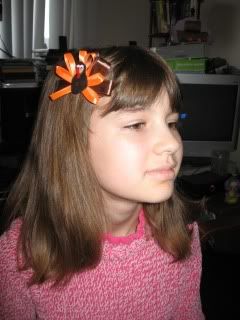 Potato gets a hair tie.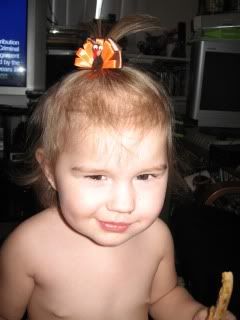 I was going to make them each two, but Jeremy convinced me they didn't need flocks of turkeys on their heads. Pish. Perhaps the neices. ;)