When I said I should really stop doing monthly update posts, I didn't mean that I was going to be moving on to quarterly updates! Hopefully with the hectic holiday season over, and January just about out of the way, I can begin blogging more frequently again.
Thanksgiving was our most mellow one in three years. I attribute this to coordinating with my Aunt Sylvia as early as September. But apparently it wasn't even chaos for the rest of Jeremy's family this year either. Just one of those years I suppose.
Jeremy and I were in charge of desserts, so I made pumpkin pie and pumpkin cheescake, each with graham cracker crusts. We did a pumpkin pie with the graham cracker crust last year and decided we liked it so much more this way. I also prepared batter for pumpkin muffins using leftover pie batter the night before Thanksgiving. I woke in the morning to bake them for our trip to Portland, which we miraculously began relatively close to the time I wanted to get going. I am not kidding when I use the word miraculous, especially with a family of six to dress and ready.
While driving down to Portland, we noticed the truck was sounding a bit funny. Apparently you can still drive an old Chevy with a blown head gasket, so long as you add oil often enough, because we are still driving it. Even with truck trouble, we made it to my Aunt's before my cousins and had plenty of time to socialize.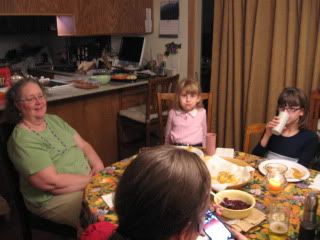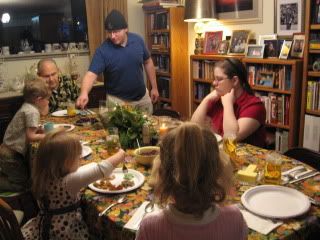 Jeremy and my Uncle Bob hit it off quite like I'd hoped they would. They are both car guys. So they spent just about the entire time pouring over car magazines and photos from shows and races my Uncle had taken. Even at the dinner table.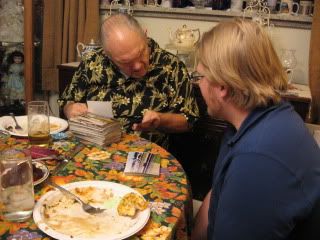 My Aunt and Uncle paid for us to stay in a hotel very nearby them, and we were even able to meet up with them for breakfast. I'm so glad we were able to visit them, and the kids got to met them.
Then it was time to begin decorating for Christmas, and making Christmas cards. (That I never got sent out, because I'm really lame.)
This is my favorite one.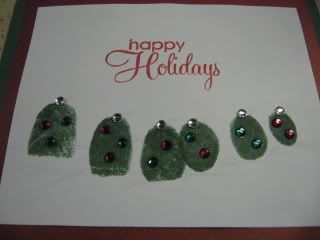 Jeremy also made a wreath for the outdoor decor. Seriously, how awesome is he??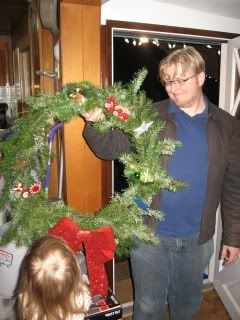 He decorated the outside so nicely. Unfortunately, neither of us got pictures. It's a shame since this was our first year together being able to put up exterior decorations. Actually, we didn't get many pictures of Christmas this year at all. Jeremy was real big on taking videos, but he took a couple of shots.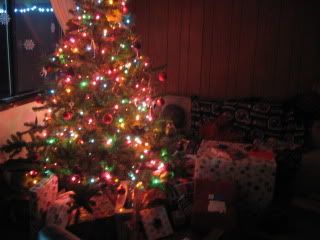 See that really big present by the tree in the white wrapping paper? Jeremy got me something very special for Christmas. Are you ready to see what he got me?
An Antique Ruby Engagement Ring!!!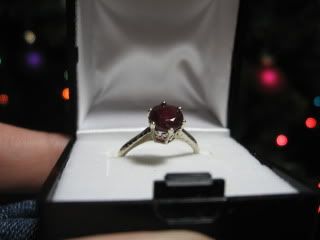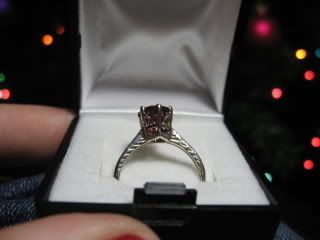 Of course, I said Yes.