The weekend following Jeremy's birthday, we went camping. I had never been camping before, and neither had the kids. I was kind of dissappointed because my idea of camping is tents, hiking boots, and cooking over fire. His parents loaned us the motorhome, which Jeremy was really excited about. They loaded it up with food, beverage, water, and gas. We just had to load it up with clothes, bedding, and ourselves. Jeremy went to pick the RV up, which took forever as his father had to give him a run through, despite Jeremy using it before. Mind you, Jeremy still hadn't selected a place where we were actually going to camp, and I'd been looking at places online all day. When he finally got home, it took another hour to decide, and then we still had to move things to the motorhome. Jeremy's mother swore up and down that both sides of the dining booth were fitted with seatbelts and we would all be able to ride along in the motorhome. When we started installing carseats, we found out that only one side of the dinette had belts. This meant only 4 belts for 6 people. Not cool. I ended up going ahead with the baby in the van to go retrieve MonkeyBug from her father, while Jeremy tailed behind in the RV with Pix and Bear. By the time we actually got on the road, I was incredibly agitated. I mean ready to say "Screw this, take it back, I am not freakin going anywhere!!" Do to it being so friggin late by the time we got half way across the state, we ended up just parking at Rye Grass Summit for the night, hooking up to electrical, and sleeping there.
The next day we got to where we were wanting to stay, Sun Lakes State Park. When Jeremy went and inquired about a hook up spot being available, the woman working the booth was quite rude in telling him no. I don't know why it is, but Jeremy almost always gets Terrible customer service wherever he goes. He came back to the motorhome, and I went back up to the booth to get brochures for other places in the area and told the woman she needed to find a job outside of customer service so people didn't have to deal with her attitude. She just glared and gave a harumph of sorts.
After looking through the brochures, Jeremy drove just up the road less than a quarter mile to the Sun Lakes Resort, where customer service was delightful, rates were better than the State Park, and spaces were available to choose from. It may have been Yuppie camping, but I was absolutely delighted with this place. They had boat launches, swimming areas, mini golf, gift shop, a surprisingly well stocked shopette, and short drives to fishing holes.
Once we were settled in, we packed up to head to Deep Lake just down a ways. The kids and I got in the water, and the man started casting his line.
Bear was little scared to get in the water. MonkeyBug tried to help him, but in the end, he just wasn't going to.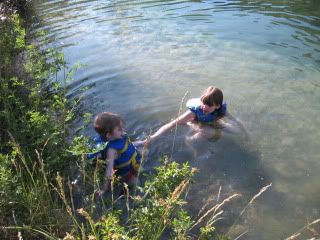 Miss Potato had to take a little time to get used to the water.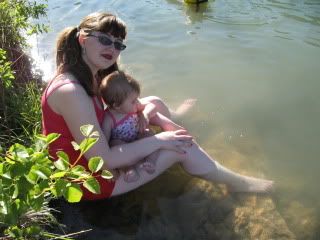 Once she did, she was loving it with lots of splashing!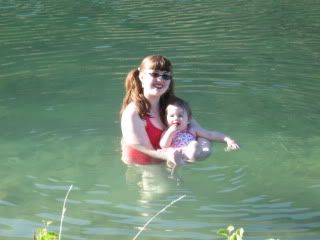 After only catching a lil kokanee and throwing it back, we went back to the site for dinner. Jeremy grilled burgers, made some improvised barbecue beans, and something else I don't remember. He also ended up with something in his eye. When I tried to take a pic of the face he was making, he covered up, and the girls joined in.
The next morning, Pix and MonkeyBug were the last to wake up. While they were sleeping, the babies joined Jeremy and I in bed. I took this photo of all our feet ending up near each other.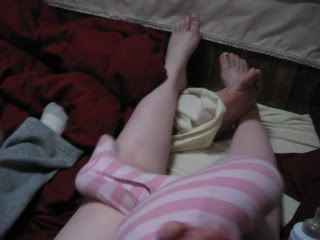 Miss Potato decided to raise the blind, let in some light, and check out the activity going on outside. I love this shot of her.
Later, we went back out to Deep Lake to attempt more fishing. The girls got into the water. Bear sat and played in dirt. Potato sat in her stroller with munchies. I was able to get this shot of them before the girls went in the water.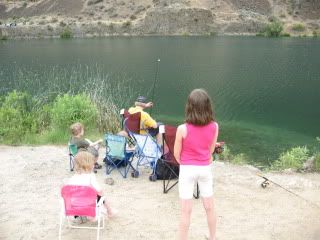 We stayed there a lil while until we decided it was time to pack up, and head on home. I ended up pretty far ahead of them, and decided to stop right at the exit for the Rye Grass summit to make sure they made it up the hill okay. Vehicles are always overheating and dying on that hill. Turns out me stopping was a good idea. 15 min after I'd stopped, he called to see how far I was and told me to pull into the Rye Grass area. The motorhome needed a little time to cool down. I decided it was a good time to move our bedding and the kids over to the van since we would be getting home very late and had to drop the motorhome off first.
Taking everything into account, it wasn't too bad. Once we actually got on the friggin road.