I realized today that it's been about six weeks since my last blog. So today will be my catch up recap day. Things have been fairly busy, and my poor laptop needs a lil love.
I will start the series of recap posts with my boyfriend's 30th Birthday, which was June 16th. His mother organized a party for him at Her favorite party place... Godfather's Pizza. I beginning to really hate their red sauce. Blech. His mother made a huge cake, which almost nobody ate after all the pizza that had been eaten. All of his siblings who ever bother to show up to anything showed up to his birthday, which accounts for about half the siblings.
A few of his friends from work also showed up, along with a gal friend he only sees maybe once a year despite her living only a couple miles away. She'd never met Miss Potato before. She asked to take her home, and I couldn't help but laugh at her. Her only daughter of about 4 years is brat, and was pushing my older kids and being quite rude. Like I would let her take my baby home with that monster.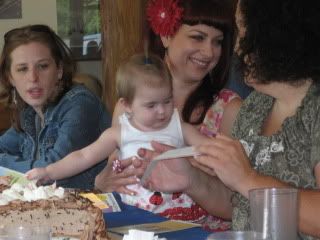 Miss Potato got her first taste of ice cream.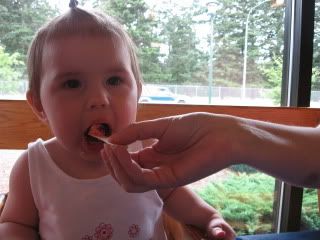 Jeremy didn't look at his cake with joy when the candles were lit. Doesn't help that his big sister lost count and actually put 33 candles on the cake.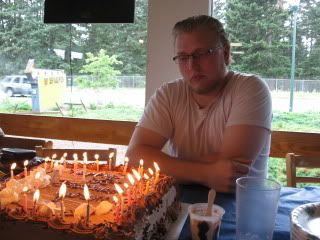 This card from his sister was supposed to help wear off the shock... or put him into shock. I forget which.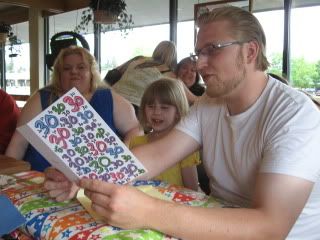 And what man doesn't love restraint straps?
He didn't get alot of gifts. Instead, Jeremy asked his family to donate to the Beetle restoration fund. Everybody chipped in, and Jeremy was able to afford another 1967 Beetle, minus engine. Hopefully now he can actually get this project up off the ground (literally and figuratively) and have a good little car to run around.