I know. Try not to fall over. Two posts in the same week? This is my version of vegging after a week full of running errands like crazy all week, I suppose. The Potato baby is wiped from errands, and vegging with Diego. She doesn't want to move anywhere for any reason. I can live with that for a few hours.
Now that I've had my social awareness rant for the week, I'm going to post a bit of fluff. I might even get around to posting a recipe or two on
Dainty & Psychotic
today. But, let's not get ahead of ourselves.
Have you heard of Bunco? It's a dice game, generally played with at least 12 people, 4 at each table. Lots of rolling. Lots of fun. This month it was my turn to host. I love having people over. I love to decorate a little, and Jeremy loves to cook fabulous food and have it be enjoyed. He was in the middle of a cooking storm when the gals arrived. They were shocked. "Is he cooking for us??" "Do you loan him out?" Yes, and yes. He wants to start giving in home cooking lessons. This is the first time we have ever stopped after the first round to eat. We usually stop at "half time" after the second round. "How do you stay so thin?!" I don't eat if he's not home. I feed the kids, and I might nibble, but I don't really eat. I know. I'm a bad person.
He made won-tons, deep fried ravioli, mushrooms stuffed with crab and cream cheese, sour dough bread, and some other things I just can't remember today. Basically, it was a smorgasboard of finger food. One of my personal happy places. We also had a variety of flavored lemonades which Jeremy played "bar tender" for. It's our party drink of choice.
Now for my part of the fluff. A tiny amount of festive decor. First thing I did was making something hang between the rabbit ears for the television, because they drive me crazy.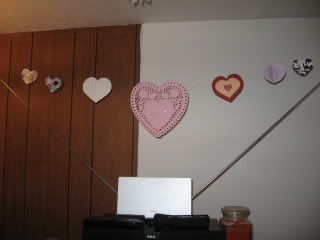 I popped into the local Dollar Tree to see if they had anything of use, and what I found were heart shaped doilies in two different sizes available in white and pink. Perfect! I used a smaller pink heart for the center of my strand. It already had the word Love embossed on it, so I used some glitter glue to accent it.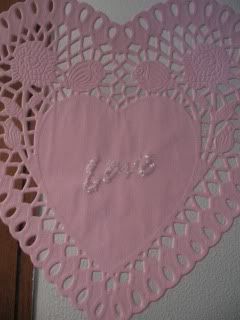 I also made a couple of "fancy" paper hearts. Here is the 3 dimensional pop up type heart. I used
this idea
from
How About Orange
. Except I used paper, didn't cut the smaller hearts in half, and glued in the crease rather than sew.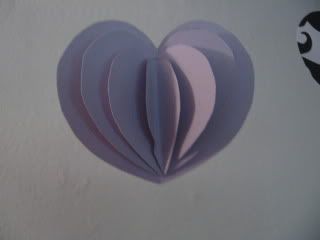 I then decided to try my hand at some paper roses.
Craftzine
has a good tutorial. I don't draw in the spiral though. I just cut it.
So, that was as decorative as I got for the living room. I still have my sparkly snowflakes dangling from the ceiling, and snowmen in the window because it is technically still winter.
Our dining room has a huge window, that we don't have any curtains on. It's pretty much unnecessary. So I decided to create something using the window. First, I took strips of paper about 2 inches wide, folded them in half, then folded them in thirds. Then I cut out hearts. Lots of hearts.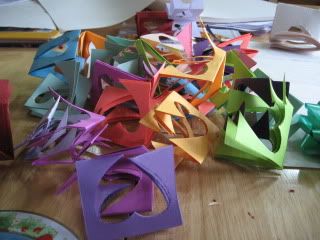 Then, I grabbed a Mtn Dew and read some blogs until my hand stopped cramping.
Organize the hearts by color.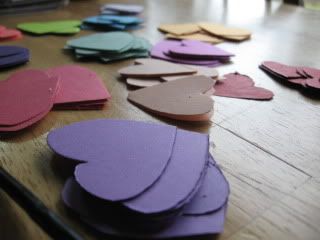 I decided six hearts per strand would be just about right, and put together different color combinations of the hearts.
I ended up having to chart out what colors I had put on each strand because I was ending up with the same color next to itself, which I didn't really want. I lined up each set of six on a used padded envelope and used a pin to poke a hole near the top of each heart.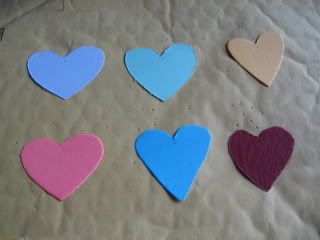 I cut lengths of white thread about 25 inches long. Using a sewing needle, I threaded the first heart.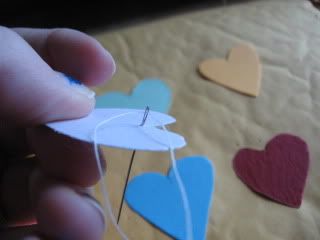 After pulling most of the thread through, leave a little tail and secure it with a small square bit of tape.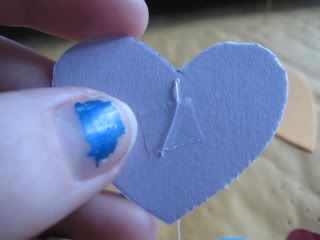 Continue threading the rest of the hearts with the needle. You don't need to tape these hearts. I then secured each thread to the curtain rod already in place. For a 93 inch window, I used 30 strands of six hearts. Once you have all your strands in place, you can then arrange the hearts on the strands by sliding them into place. My strands are not the full height of the window, because there is a certain little girl who would probably pull them down.This is how it looked.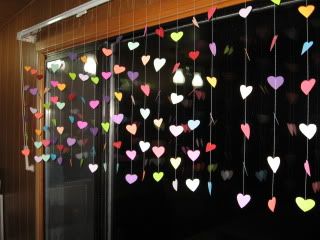 I know. My lighting is atrocious. But the kids love how it all looks hanging up there. At the end of the month, I'll slide all the hearts to the bottom to stack them. Then I can wrap the string around them, place them in an envelope, and save for next year.