We have been so dreadfully sick around here for the past week. Bug has had this awful cough for weeks, which the doctor insists is just a cold. Fine. Except two kids in her class have been diagnosed with pertussis, or whooping cough as some call it. Pix had the cough for about two days and was over it. Same with Bear. But this last week something new and even more fun, yet similar, came around to kick all our bums. Except Pix. She's still doing stellar.
I largely suspect this new bug came from J and the work place. Potato only has the sniffles and a slight cough, thank goodness. Pix is still clear. J and I both have coughs, sniffles, and our lungs hurt. Yay! Poor Bug and Bear had it the worst. They spent the weekend with fevers and chills, taking several naps on the couch and rocker. They are doing grand today though, so the fevers obviously did what they needed to. I have lost my voice. Did I mention the kids have no school this week? And I lost my voice? This is going to be fabulous. Good thing my babies are mostly well behaved. I can still whistle at them so I can whisper at them.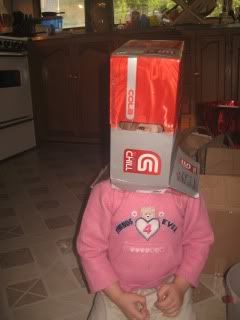 I'm not exactly sure why Potato put this soda box on her head, but I had her saying "Nee!" for a good couple hours while wearing it. She's hilarious, and someday when she watches that movie I will show her the pictures and tell her the story of how Mommy raised her with a bit of geek.
There was also Valentine's Day. The older three children had a blast at their class parties. They came home with quite the bundles of confections and cards. I wanted to make sure Potato didn't feel left out, so I bought all four babies cute little tin pails from Target and filled them with heart shaped boxes of candy and cute little gifts.
Jeremy had a teddy bear, a box of chocolates, and two dozen roses sent to me, which didn't arrive until after he got home early from work.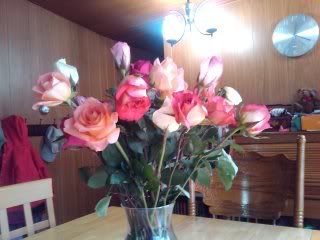 Luckily, USPS did deliver mail in a timely fashion that day since a tie I had ordered him came in that day. I got him a 60s tie in black, red, and gray with the Chevy bow tie on it from
Art Deco Dame
. That girl is seriously quick to ship. She mailed it out the same day I made the payment. Not only is she quick, she's super sweet. I had ordered myself a pretty floral purple handkerchief, and she included another white with purple floral embroidery free of charge. She is such a dear. I also, got Jeremy the Darius Rucker album he's been coveting and a case of Brown & Haley Peanut Butter Mountain Bars. Yes. I said a case. He's a peanut butter chocolate fiend.
Traditionally, we take the children out to dinner for Valentine's Day. But neither of us was really sure we were feeling up to an outing. As we were trying to decide whether or not to pack up the midgets in the truck, the wind made a decision for us and knocked out the power. We had to travel all the way up to Silverdale, and took the kids to Famous Dave's since they all love barbecue and ribs. I stuck to boneless buffalo chicken. Ew to ribs. It was very convenient that we had to drive up there since it turned out my ring was ready at the jewelers after being resized. Rather fitting for Valentine's Day, I think. They also gave Jeremy an estimated value of the ring, and I guess he got a REALLY good deal on it because his eyes were bugging out and strutting a bit. He'll tell you I'm exaggerating. I'm not.
I don't care what he paid. He could have paid a quarter for it. I'm just happy I can finally wear it on the proper finger.