On July 13th, my one and only little boy turned 4 years off. His love of Spider-Man was very prevalent. He wore one his Spider-Man shirt.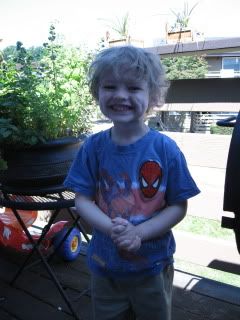 He also requested a Spider-Man cake. Ok, I got lazy with it. But it was really hot.
As he opened his first gift, he shouted, "It's All I Ever Wanted!!" lol It was great.
Needless to say, he thought it was a very good birthday. He's the sweetest little boy. Whenever his baby sister wakes up, his first thought is to do something to make her laugh. He's going to be a very fierce brother.
On the 18th, we drove out to the ocean to visit Jeremy's brother for his birthday. Jeremy put together his kites and let them set flight. The winds were so good, his lines snapped. Thankfully, they were his old lines, and he was able to attach his newer ones.
The wind coupled with the size of the kites, nearly brought him to his bum in the sand. It was fun to watch him get pulled around.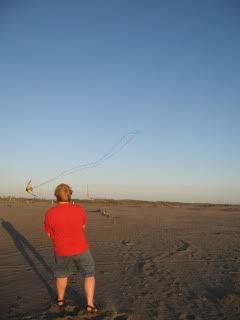 After helping Jeremy get the kites up, I went and played in the water. One substantial wave brought the water up to the first line of vehicles, where my van was. I had to rush through the waves to get to my van and move it back before the sand got too soft. It was pretty funny. Then I went back to waves, until Jeremy called me back in. Jeremy doesn't like going into the water unless it involves a boat and rope. So it was fun to make him chase me into the water to get me to come out. :D