So that's what I'm doing today, since I finally was able to load my pics. Some of this is August, some of it's September.
Miss Potato, while waiting for her Daddy to finish working on one of the vehicles, took a great interest in the three-wheeler. So up she went. We opted not to start it up.
Before we had to send MonkeyBug back to her father's, we drove on out to ocean. Fabulously enough, it was also the weekend of the kite festival! Usually Jeremy misses out because of work while the rest of his siblings drive out to enjoy the festival at Long Beach. This year, we were the only ones who went. Crazy strangeness. They'd all forgotten about it. There were ALOT of kites. Somebody had, I think I counted twelve, arrow point kites stacked. Two other people had a coordinated kite flight going on. It was crazy. You'd have thought that it was one person controlling those kites. There was also a very large kitty cat, and teddy bear. Those were creepy.
We had also bought the kids each a box kite some time ago, so they pulled those out. Of course, Jeremy pulled out and stacked his two kites.
Miss Potato watching the waves, that she later delightfully frolicked in.
Bear keep his kite flying high.
PixyChick digging her feet in for a sturdy stance.
MonkeyBug learning to maneuver her kite.
A few days later, one of my very best childhood friends and maid of honor came to visit her grandparents. She lives in AZ now, so she doesn't make it up to WA too frequently. I was so delighted she told me she was coming and asked if we could get together.
It was one of the last times they were doing Music in the Park at Pioneer Park. The band was actually really good. We even dug their geeky attire. Super cool. It's unfortunate the crowd was so sedate. What the heck? Who slipped valium in the water?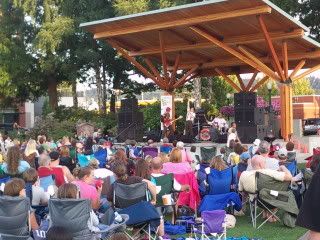 Afterwards, the man was sweet enough to take the kids and I to our Favorite pizza place.
We're men.. We're manly men...