Some months ago the Tacoma metro area got their first Sonic franchise out in Graham. The place has been busy ever since. Crazy busy. Going there for dinner is pretty much a bad idea unless you are willing to wait quite a while. We went for lunch yesterday. They had four rows that were each about 5 to 6 cars deep in the Staging Area. Thankfully, all those cars were for drive-thru. Insane. It would be nice if the employee asking you Drive-Thru or Stall would explain the wait is longer for drive-thru. Who goes to a drive-in to go through the drive-thru? It kinda defeats the purpose and blows the experience.
I've never been to Sonic. Jeremy has since he has stepped foot in Cali before. He had a serious hankering for cherry limeade, but deciding what to eat without ordering one of everything was a bit of a test.
Thankfully, he was able to make a decision with the double cheeseburger. Of course he got his Cherry Limeade. He even resisted getting a milkshake.
I love their alternative additions for kids meals! The kids got grilled cheese sandwiches and bananas. Yum! Bear ate his banana before even touching his sandwich. Such a good boy. Pix was able to decide quickly she wanted a cherry slushy drink. Bear took a while though. There were so many choices!! Finally, he decided on Blue Coconut. I don't think he was disappointed.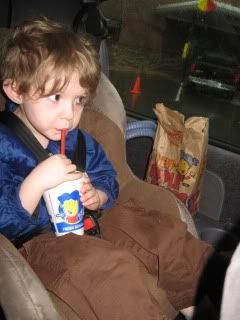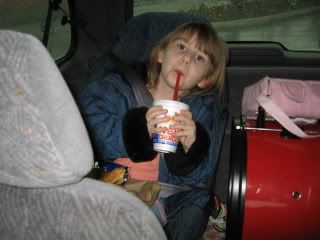 I decided to go with the old standby of a bacon cheeseburger toaster, my all time fave no matter the situation. It was so good, and then I bit into the onion ring they put on it, and it got even better! lol The onion ring just really makes it. Mmmmm. I wish I'd gotten onion rings instead of chili cheese tots. The chili left something to be desired, like something more than colored mush. While my boyfriend is a sucker for cherry limeade wherever he goes, my weakness is strawberry. I wasn't disappointed.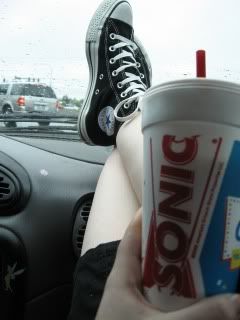 Of course, Miss Potato does not tolerate not having her own food. She doesn't eat baby food. She looks at us like we're stupid and hiding the real stuff. So, we don't even bother. She eats everything we do, mostly. So Miss Potato got tater tots. She loved tearing them apart and tearing into them with her six teeth.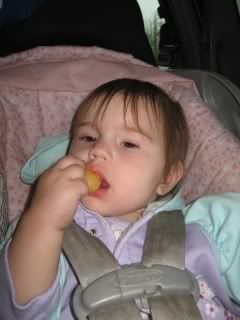 Afterwards, we ventured over to Joe's, formerly known as G.I.Joe's. They're going out of business and everything is clearanced. There isn't much left, except for little stuff. Jeremy really wanted to check it out though. So, he got some fishing stuff, and found a really good Kershaw electric carving knife for cheap. He tells me it's really good. I don't really know. I don't play with electric knives. I figure I shouldn't push my luck. I however was able to finally replace my WSU Cougar shirt after 10 years of not having one.
Then we moved on to dinner at Rory & Dianna's place. I found out Shantelle had taken the invitation to Potato's birthday, ripped it in half, and stuck the kangaroo in her binder cause she liked it so much. The little dog that Potato once started out absolutely terrified of is now her best friend. She follows that dog, pets and pulls on him, and gives him kisses. She's even started playing with him with his toys.
I really think her favorite thing of all though is the way Dianna spoils her. For example, with pudding....