Wednesday was Tacoma Free Day at the Point Defiance Zoo. So after Potato's appointment, we headed out to the zoo. It was completely necessary. We would have gone even if it was raining. In March, Qannik, the younger and smaller of the two belugas became sick. The doctors caring for him just weren't able to help him get over it and he died. Beethoven, the older and much larger beluga whale, is doing fine. Unfortunately, Tacoma will be losing their playful friend. Beethoven is being moved to Texas in June to take part in the breeding program and to be around other beluga whales.
Here's some pics of Beethoven and Qannik from previous years.
And here are a few pics from our visit this year. We always start with the Kids Zone. They have a little playground. It's also where they keep goats, lemurs, and meerkats. The indoor viewing area of the meerkats was closed for repairs, which means the spiders and some snakes were missed.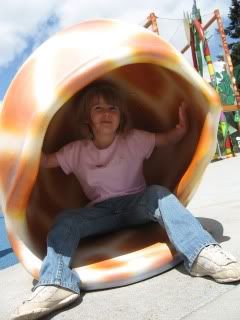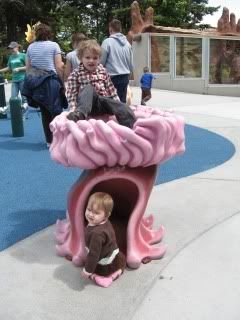 Next were the fish and sharks. Potato LOVES this area. She has a great fascination with aquarium life. It's definetly her favorite part. Marine biologist in the making perhaps?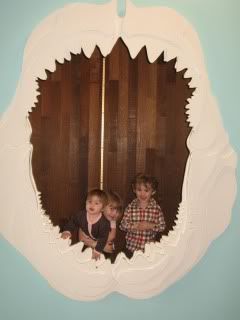 Nemos!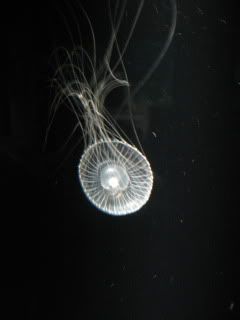 Here sharky sharky sharky...
Let me ride it!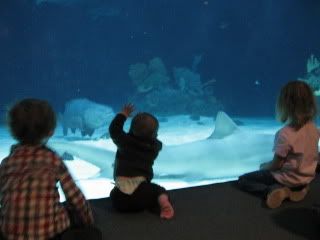 Next was the Indian Sanctuary. The tigers were lounging up in the shade, under the trees, behind the tall grasses. One did finally emerge, but she stayed up in the shade. One of the zoo employees showed us a ball that they had played with for about two hours when they were two months old. I think Potato wanted to take it home.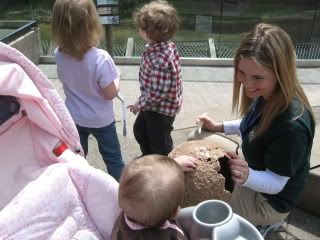 We moved on to the penguins, which Pix was very excited to see. Potato held on to the rail and leaned over as far as I would let her. Then she didn't want to let go! I think she wanted to join in their play. Bear preferred to maintain possession of the zoo map and navigate our adventure.
Bear however did pause for a pose with the bronze statue of Dub Dub, the harbor seal that lived to be 33yrs old and was part of inspiration for building the zoo.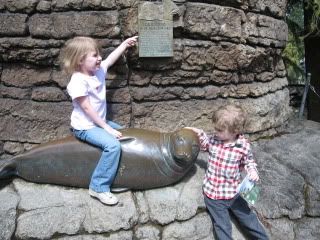 We then moved on to the main purpose of our visit. I explained to the children how there was only one beluga now, and that this would be the last time we'll get to see Beethoven before he goes to Texas. It's unfortunate, since the whales are a big reason we go to the zoo.
Beethoven doing his usual circling about.
One of two seals residing with the beluga.
I think Bear's favorite part was the walruses.