It's Memorial Day weekend. As in, everybody get the heck outta Dodge and clog all major highways to reach some destination greener, cleaner, and away from home. Unfortunately, the only reason I was leaving town was to take two of my kids to go have their visitation with their father. No getting out of town for me this weekend. Jeremy has to work. Miraculously though, he actually gets Memorial Day off. The first time in 14 years due to the fact he works retail.
I-90 through Snoqualmie Pass was crammed. When I called to tell my ex we'd be late, he calls me back and says the Department of Transportation website said the back up was from mile 44 to mile 62. Well, the DOT wasn't sitting at mile 37 in stop and go traffic, and hadn't been since mile 34. Pisssh.
Miles Ahead.
And Miles Behind.
My Zoo-tots. Yes, I pilfered my children's Sonic kids meals. I'm a bad person.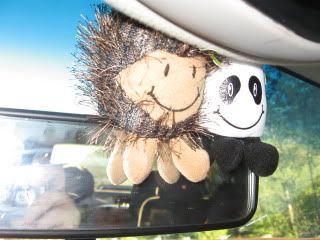 Miss Potato was feeling pretty cranky cause she was hungry, and the bottle was no longer acceptable to her. But mini oreos however were acceptable!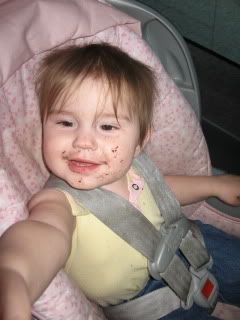 Pix & Bear were happy with juice since they'd eaten dinner already.
We finally approached Summit at about 8pm, which is when we should have been reaching Ellensburg another 60 miles away.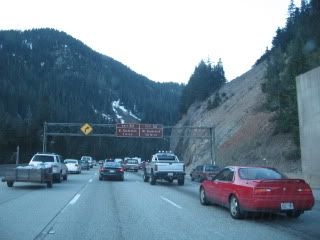 After we reached the other side of the Summit, we decided to stop at the Price Creek rest stop. Apparently so did everybody else who lacks the capability to pee in the trees without piddling on themselves. It was a quite a line of folks, considering the number of guys I saw get out of their cars to water the shrubbery. People were lined up into the parking area, and a high percentage of the parking spaces were filled.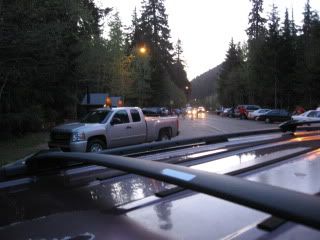 We didn't make the drop off point until 9:45. The ex even drove further west to meet us at Elk Heights so we didn't have to drive to Ellensburg. We made it home just before midnight. Little Potato was so grateful to be out of her carseat and into her crib. We're not picking the kids up til Monday, so it's going to be more of the same in reverse. Yippee. Ick.
Yesterday Potato and I just ran errands. So many loads of laundry for six people. Again, she spent most the day in her carseat. She was so---- angry every time she got put back in it. She would build up for a scream, and I would have to clap my hands in front of her face to get her to breathe before she started turning blue. Talk about dedication to getting your point across. I think she gets gearing on it so hard, she can't figure out how to start up breathing again. It's kinda interesting to watch. I've never had a kid do this before. Usually I count to five, and the scream lets out. Not her. That would be her Daddy's temper. Not good.
This morning, Potato announced she was ready for the day after sleeping in til almost 9. Her dad went to get her from her crib, and called me in there. The little Sweet Potato was so proud of herself. She'd started her diaper change. Diaper off, baby and bedding a mess. Ugh. Another trip to the laundry mat. We also went to Michael's. SO much of their scrapbook stuff is on clearance. It was hard not to start filling a cart. I'll drag Jeremy in there tomorrow and reason it out with him. lol I've decided that for my birthday this year, I just want gift cards to Michaels and Artco Crafts. I want card making supplies and fabric to start making vintage pinup dresses. Artco has this adorable cherry fabric I think will be perfect for a swing dress. And another fabric for an apron. So many desired projects. So little money.